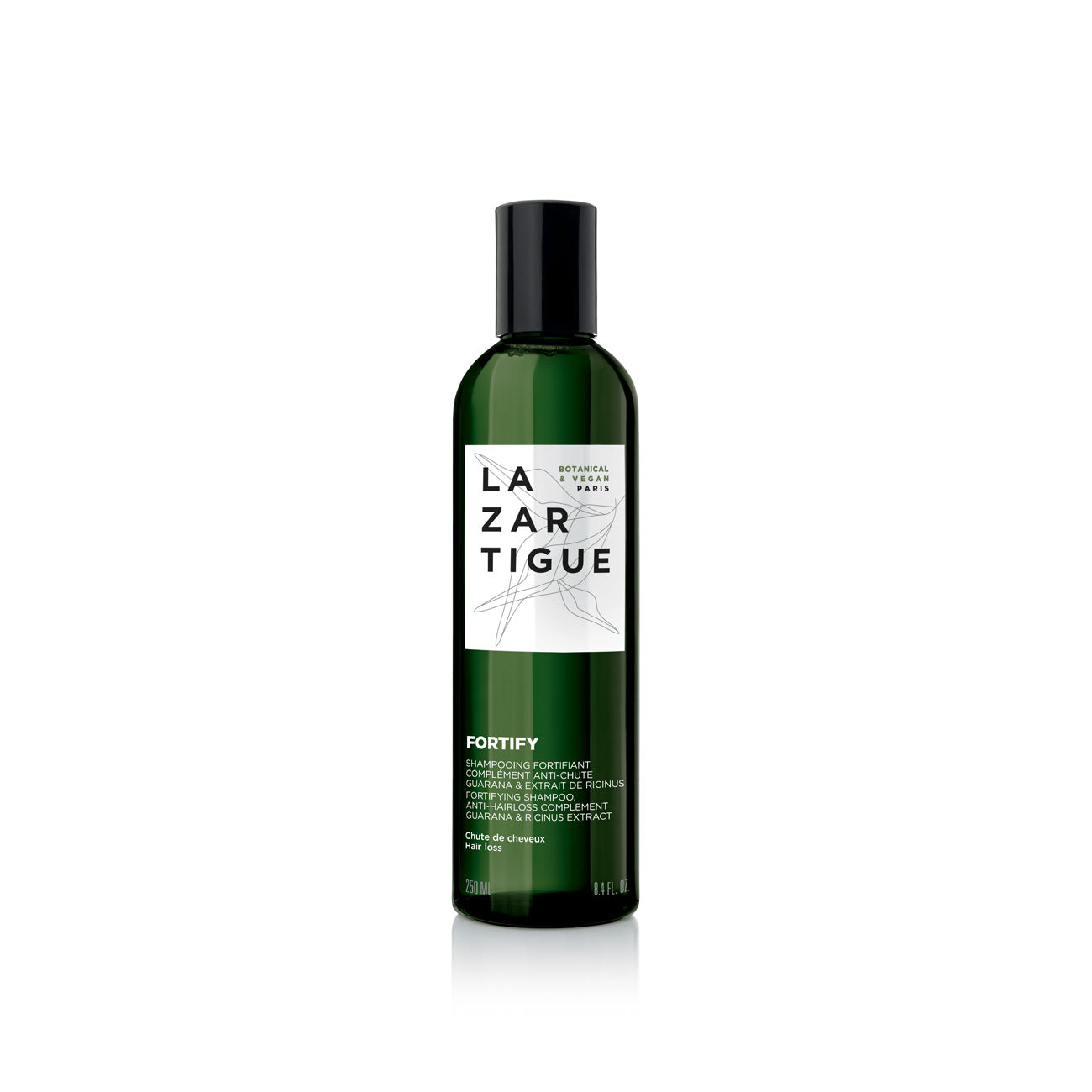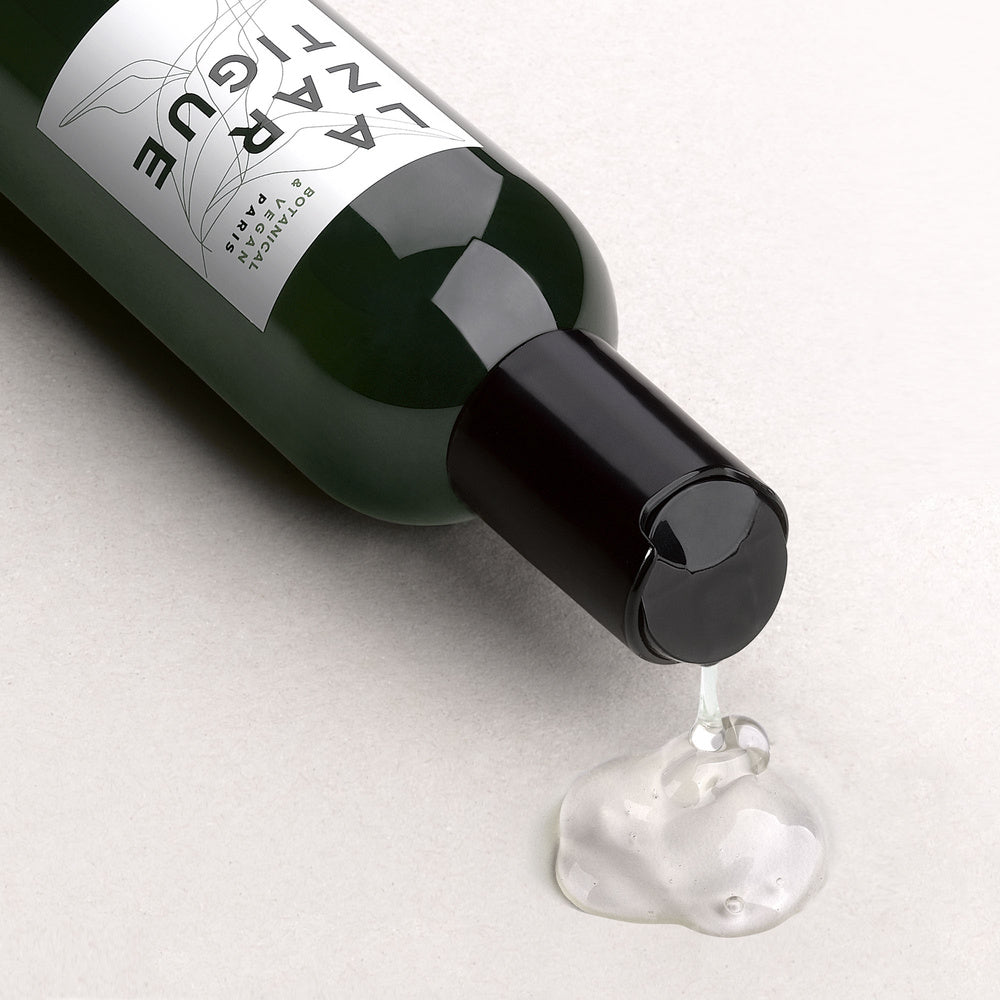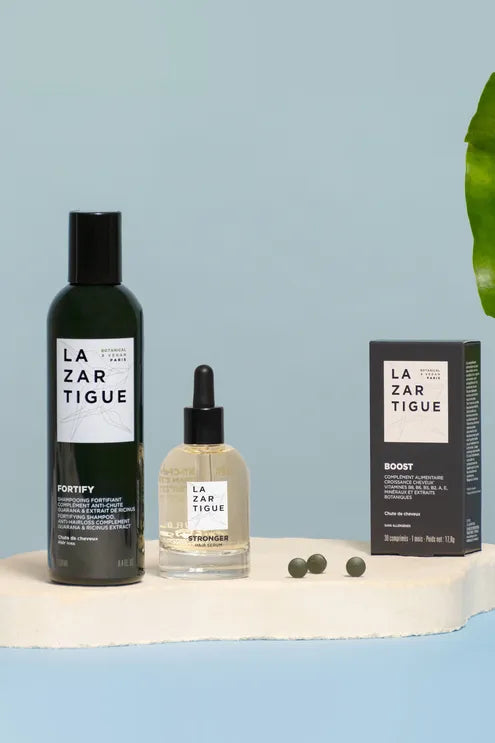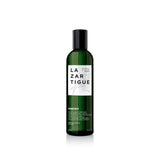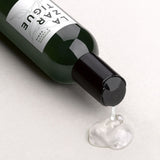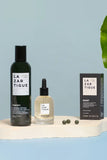 This shampoo with botanical active ingredients prevents and slows down hair loss while accelerating their growth. Its vegan formula, 94% of natural origin, silicone-free and sulfate-free strengthens the fiber and stimulates hair follicles. Day after day, the hair is more resistant and the hair gains in density.
Activates growth - Slows down hair loss - Strengthens
Fluid and light, its translucent texture quickly penetrates the hair fiber to deliver the active ingredients in depth. Infused with mint and light lemon notes, it instantly energizes the scalp and offers a delicious cooling effect.
Vegan - Silicone-free - Sulphate-free - Alcohol-free - 100% made in France.
Yuka rating: EXCELLENT - 79/100
In the same way as for the skin, we observe hair cycles at the end of which our hair falls out and regenerates. Normal physiological loss is estimated at between 100 and 200 hairs per day. Beyond that, the fall is abnormal and results from a hormonal imbalance (progressive fall) or from a sudden external factor such as stress, a change of season or a nutritional deficiency (reaction fall). In both cases, the fiber becomes thinner, its anchoring weakens, the hair falls out and the hair becomes thinner.
To slow down hair loss it is necessary to act on several levels. The scalp must be protected, revitalized and stimulated to restart the growth of healthy hair. The existing hair must be strengthened in order to improve its anchoring.
Fortify Anti-Hair Loss Fortifying Shampoo is the perfect complement to our targeted anti-hair loss treatments, Stronger Serum (for reactive hair loss) or Thicker Serum (for progressive hair loss). Its ultra-concentrated formula combines two botanical active ingredients recognized for their anti-hair loss and fortifying properties: organic virgin castor oil strengthens and deeply nourishes weakened hair. Guarana, a powerful natural energizer, stimulates blood circulation to the scalp. This blood flow facilitates the supply of nutrients to the hair bulb, the fiber grows stronger, more beautiful and faster. Over the days, the hair is strengthened and thickened, the fall is slowed down.
Visible results from the 1st month of use:
91%: the hair is more resistant *
91%: the scalp is toned
86%: hair loss is slowed down *
* Use test,% satisfaction on 20 volunteers, application 2 to 3 times a week for 4 weeks
STRENGTHS
Its vegan formula is silicone-free, sulfate-free and free from artificial colors.
Most shampoos contain sulfates or sulfated surfactants. These agents of synthetic origin have foaming, detergent (they dissolve impurities) and emulsifying properties (they promote the mixing of ingredients). Despite these properties, their formula with a synthetic composition tends to unbalance the natural environment of the scalp, which has the effect of causing even greater hair loss. To effectively fight against hair loss, we have chosen to favor agents of natural origin, less aggressive and just as effective. Our shampoos contain a quartet of mild non-sulphated and botanical surfactants, derived from coconut, which gently cleanse the scalp, without attacking it.