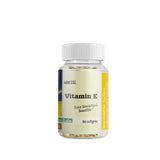 Nutrilabs Vitamin E
TASTE THE SWEETNESS OF FREEDOM AGAIN AND AGAIN.
You've tasted freedom and you'll never go back. You won't be restrained by what other people think and you won't be weighed down. Vitamin E is one of nature's most important anti-oxidants, unfettering your body from harmful free radicals and toxins. Distill to your purest self. Let the most revolutionary you shine (and your skin and hair, too). Taste the sweetness of freedom again and again.
Vitamin E is a powerful antioxidant. It acts like a free-radical scavenger and cell gatekeeper, riding the body of toxins and preserving the integrity of the body's cellular membranes.