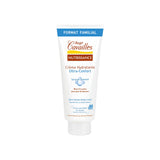 Nutrissance Ultra-Comfort Body Cream Surgras Vitaminé
Our Ultra-Comfort Body Cream is enriched with vitamin-packed to protect the whole family's skin. It provides long-lasting dual-action hydration for dry and sensitive skin:
-Its emollient ingredients (sweet almond and jojoba oils) protect the skin from overdrying.
-It deeply nourishes the skin thanks to a formula rich in vitamins and minerals.
Upon application, its high shea butter content (5%) leaves the skin feeling soft and comfortable. Even 48 hours later*, the skin is deeply moisturized. Day after day, the skin becomes increasingly supple and bright.
*46% increase in hydration, even two days after application, compared to traditional moisturizer. Comparative clinical assessment conducted on 20 women with dry skin.