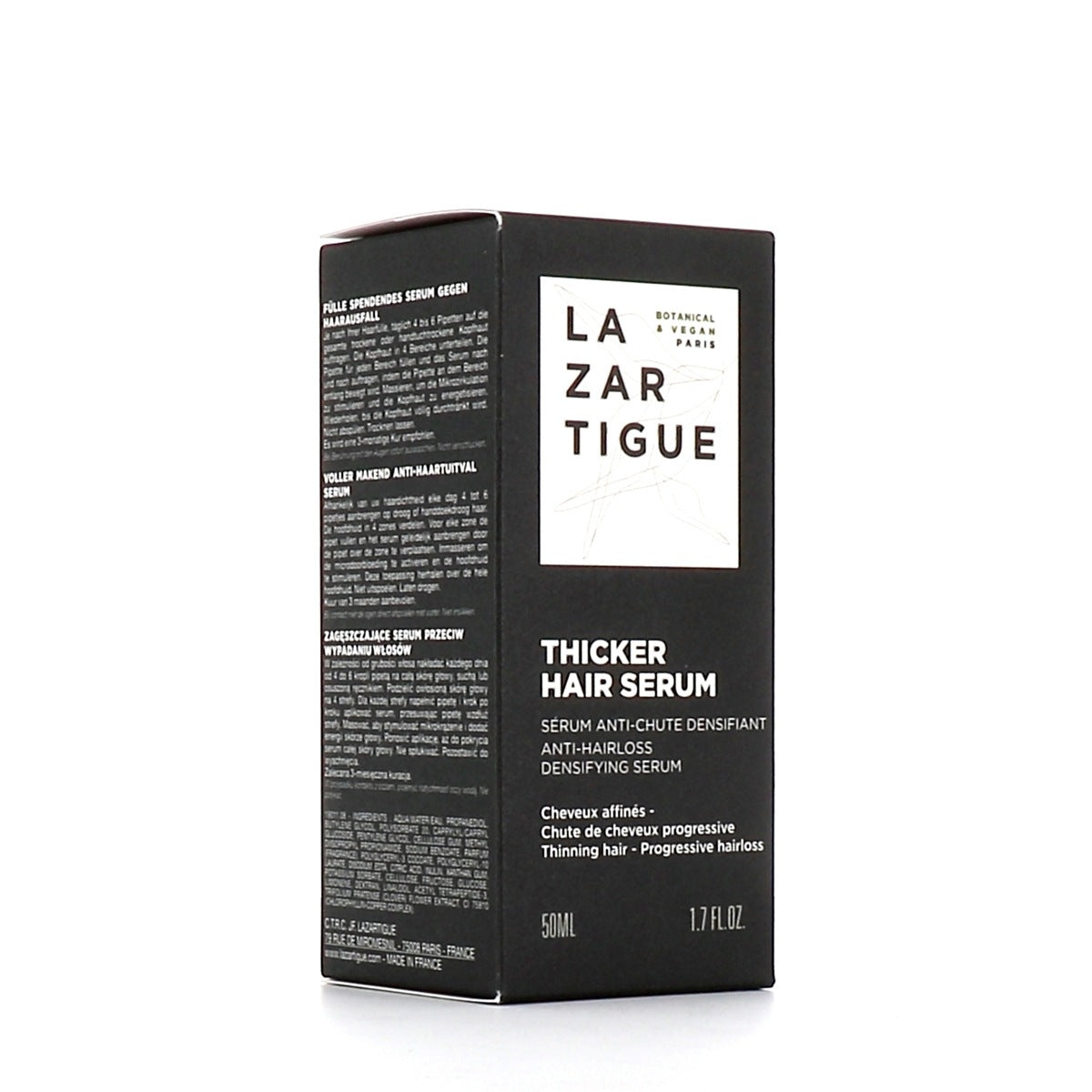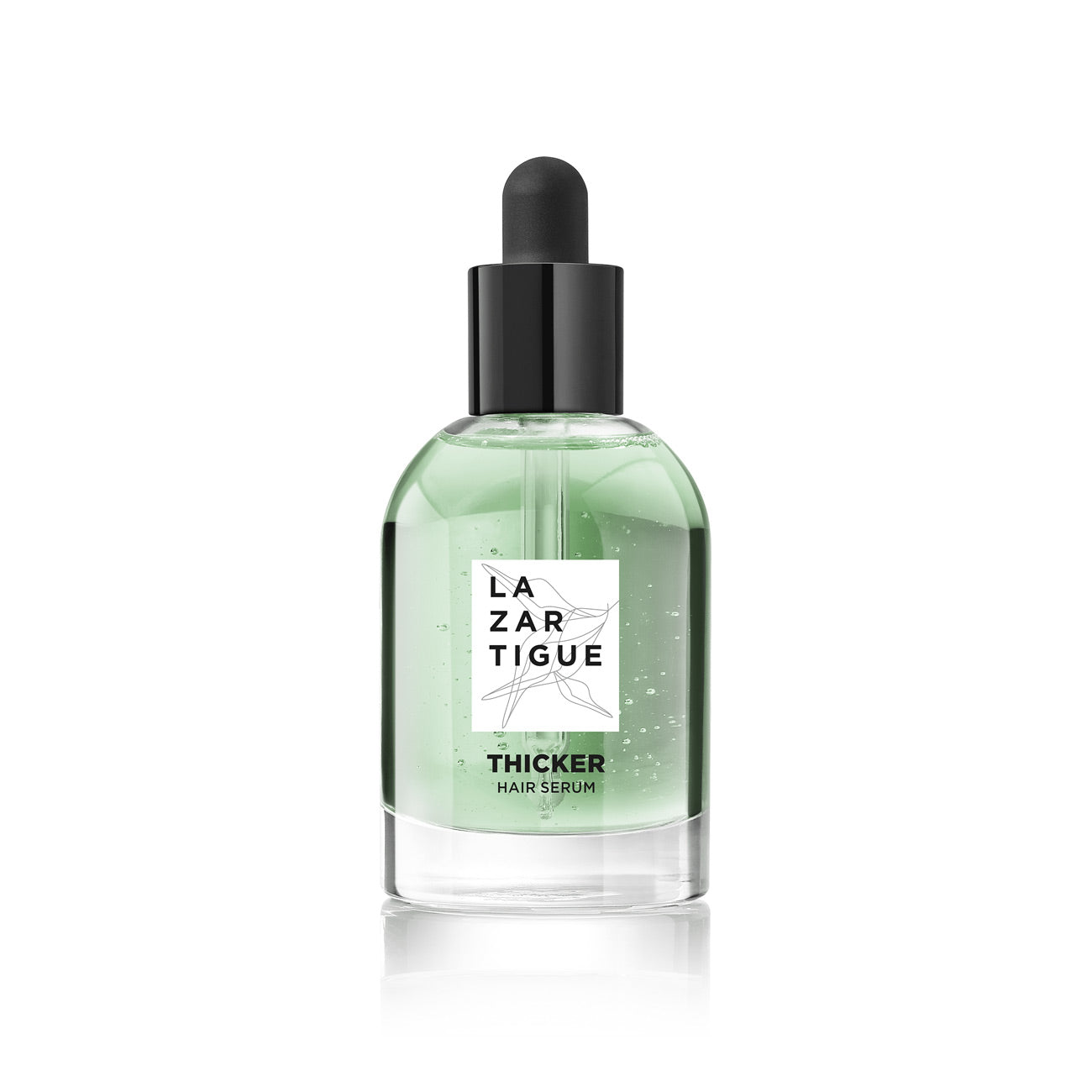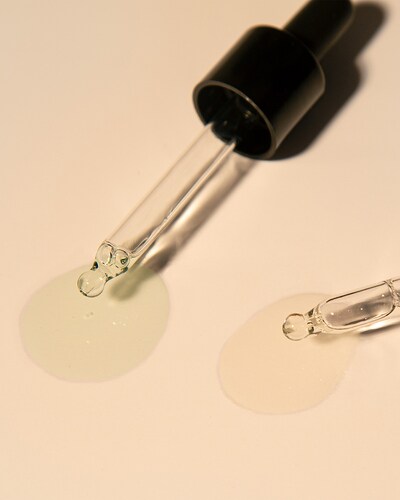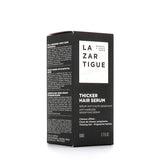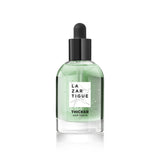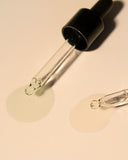 Thicker Densifying Hair Loss Serum
Thanks to a powerful concentrate of botanical active ingredients, Thicker serum slows down progressive hair loss. Its vegan formula, 97% of natural origin, offers an overall anti-hair loss action: it stimulates hair follicles, strengthens refined hair and protects the scalp. The hair grows thicker and more resistant, the hair appears denser.
Slows down hair loss - Prevents thinning of hair - Acts against loss of density - No oily finish.
Finely gelled, its non-greasy texture is easily applied to the scalp, without running on the face. Its composition combines minty and Mediterranean notes, for a delicious moment of freshness.
Alcohol-free - Silicone-free - Mineral oil-free - EDTA-free - PEG-free - No artificial colors - Vegan - 100% made in France
Yuka rating: E XCELLENT - 79/100
Hair has a life cycle at the end of which it falls out and regenerates. Depending on the season and their genetic profile, each person loses on average between 100 and 200 hairs per day. Beyond that, the fall is abnormal and results from a disruption of the hair cycle. When it is due to a hormonal impact such as menopause or to a hereditary factor in men, the fall is said to be "progressive" because it sets in over time. Weakened by an overproduction of the hormone dihydrotestosterone (DHT), the hair becomes thinner and ends up falling permanently. The fall begins at the temples and forehead before reaching the whole of the skull.
To slow down gradual hair loss and maintain healthy hair, it is important to strengthen weakened hair and stimulate the growth of new hair follicles.
The Thicker serum slows down gradual hair loss thanks to the anti-hair loss action of a highly effective and non-irritating botanical complex, Capixyl TM . Extracted from red clover, this patented natural active ingredient acts at each stage of hair loss to visibly increase hair density:
1 / Slows down the production of the hormone DHT
Present in the Capixyl TM , biochanin A is a natural organic compound that effectively inhibits the production of the hormone DHT, the main cause of thinning hair and hair loss.
2 / Activates hair growth
Through a combination of amino acids, the Capixyl TM stimulates the cells of hair follicles
to increase their size. Hair grows thicker and stays anchored.
Clinically proven efficacy:
+ 7000 hairs *
90%: slows down hair loss **
90%: reduces density loss **
* Clinical study carried out on 12 people at the rate of one application once a day for 6 months
** Use test,% of satisfaction on 10 volunteers, 1 application per day for 3 months
STRENGTHS
Its vegan formula is alcohol-free
Hair loss serums generally contain alcohol because its astringent power instantly tightens the pores of the scalp. This effect is temporary and short-lived. Alcohol can destroy the hydrolipidic film of the scalp. Vulnerable and exposed to aggressions, the latter dries up and becomes sensitive to irritation which has the effect of causing even greater hair loss. To effectively fight hair loss, it is important to use a non-irritating, alcohol-free, sulfate-free and silicone-free formula like our Thicker Serum. The scalp is protected, nourished and stimulated, thus creating the ideal environment for the growth of healthy hair.