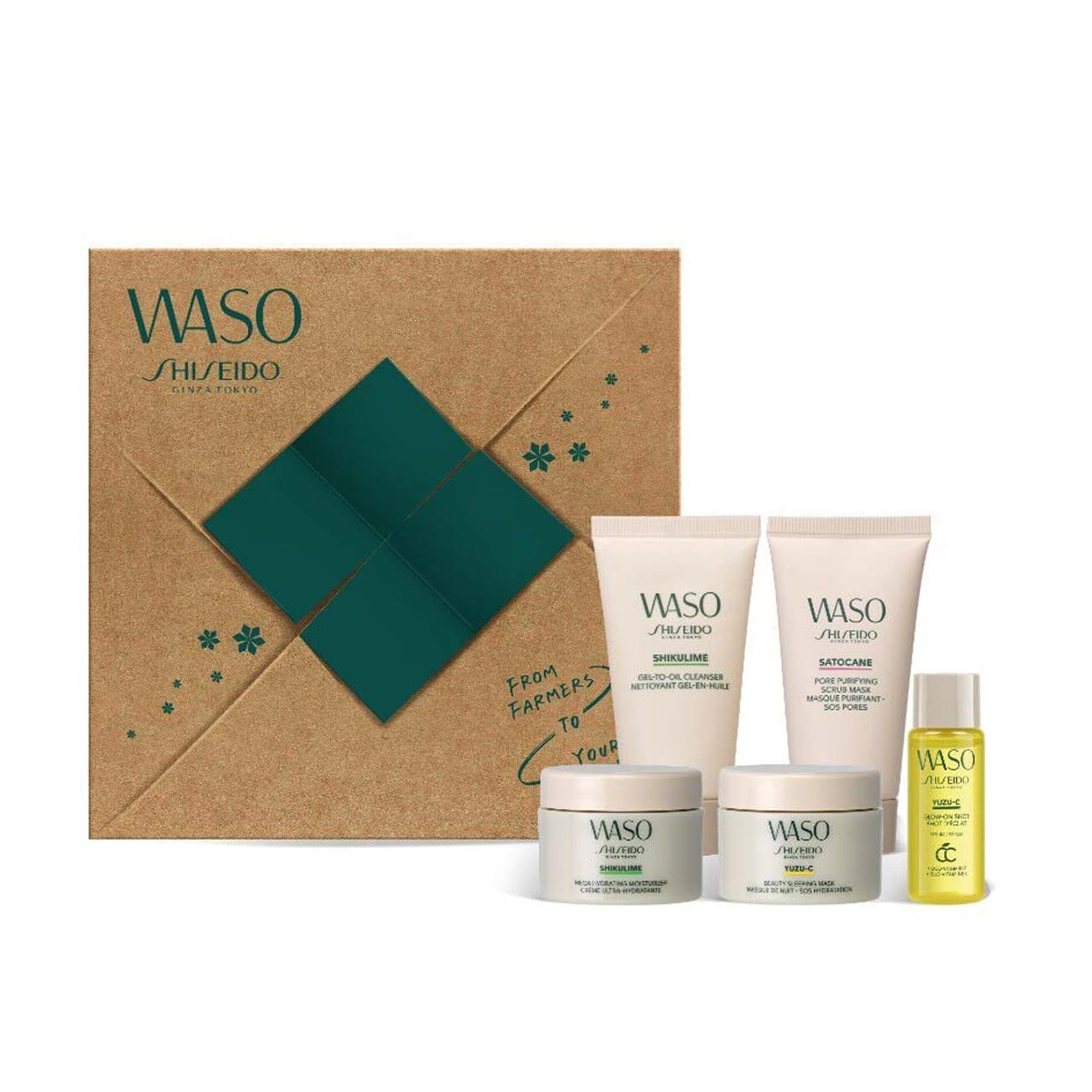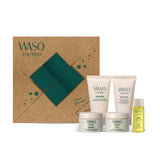 Waso Perfect Skin Essentials
PERFECT SKIN ESSENTIALS
FROM THE PRODUCER TO YOUR FACE
In order to support local economies while guaranteeing the traceability, freshness and effectiveness of our ingredients, we source our products directly from producers in various regions of Japan.
Our scientists then harness the full power of these local ingredients to create clinically proven nutrient-rich treatments.
This set contains:
SHIKULIME GEL-IN-OIL CLEANSER (30 ml)
SHIKULIME Gel-In-Oil Cleanser is a 2-in-1 cleanser and make-up remover enriched with Shikuwasa Lime to balance the skin barrier while eliminating impurities, excess oil and make-up without ever drying the skin. Its gel formula attracts impurities like a magnet before transforming into a silky oil that removes even waterproof makeup without drying, to reveal clean, fresh and luminous skin.
SHIKULIME NON-GREASY COMPLEXION CARE (15 ml)
Thanks to its unique formula, SHIKULIME Oil-Free Complexion Corrector adapts to your natural complexion and blurs imperfections while protecting the skin from UV rays (SPF30). Balancing Shikuwasa Lime Extract helps maintain healthy skin and strengthens the skin's defenses against key skin concerns. With its non-greasy moisturizing formula, this treatment is particularly suitable for normal to oily skin and suitable for a wide range of skin tones.
YUZU-C NIGHT MASK (15 ml)
Enriched with sun-ripened yuzu lemon, this hydrating mask has been specially formulated to boost skin's radiance while you sleep and reveal a fresh, deeply hydrated complexion when you wake up. Like a moisturizing wrap, this night mask plumps up and revitalizes even the most tired skin.
SATOCANE SOS PORES PURIFYING MASK (30 ml)
Harnessing the powers of Satocane, a Japanese cane sugar, WASO imagined this purifying and exfoliating mask with mineral clay to eliminate impurities and blackheads and reveal clear and even skin. This mask is enriched with Satocane, a cane sugar that targets excess sebum to prevent clogged pores and guarantee a healthy glowing complexion, for a long time. The unique botanical exfoliants in its formula help eliminate dead cells for skin as soft as a baby's.